I

f you read historical fiction, then fall is going to be your favorite season. There are so many historical fiction releases coming this fall that I couldn't fit them all on here!
August 2011
A Most Unsuitable Match by Stephanie Grace Whitson
Miss Fannie Rousseau is a young woman of privilege traveling west to uncover the truth behind a family secret. Mr. Samuel Beck is on a mission to atone for past failures that still haunt him. Their meeting aboard a steamboat to Montana sparks an unlikely attraction. They are opposites in every way... except in how neither one can stop thinking about the other. Will the end of the journey bring the end of their relationship, or is it just the beginning?
The Rio Grande - Texas, 1886
On the Lawless Frontier, a Texas Lawman Is Her Only Hope
In 1779, when genteel Virginia spinster Roxanna Rowan arrives at the Kentucky fort commanded by Colonel Cassius McLinn, she finds that her officer father has died. Penniless and destitute, Roxanna is forced to take her father's place as scrivener. Before long, it's clear that the colonel himself is attracted to her. But she soon realizes the colonel has grave secrets of his own--some of which have to do with her father's sudden death. Can she ever truly love him?
Baltimore's Cassandra Channing will do anything to provide for her family—even if it means hiring the town rogue as a privateer. Luke Heaton is a handsome rake with a tortured past who is blackmailed by the British into selling supplies to their ships just off the coast. Cassandra and Luke's worlds collide as they are drawn into danger, secrets, romance, and war. But when the British begin to bombard Fort McHenry, how long can they protect their love—and each other?
In a time of peril, can they find the courage to confront their fears and embrace a love that lasts?
September 2011
Ostracized by her tribe because of her white father, Lizzie Dawson lives alone in the mountains of Alaska, practicing the ways of her people even as she resides in the small cabin her father built for her mother. . .
Clay Selby has always wanted to be like his father, a missionary who holds a great love for the native people and has brought many to God. B
efriending her might have dire consequences for his mission. Will Clay be forced to choose between his desire to minister to the natives and the quiet nudging of his heart?
When Audrey Cunningham moved with her father to his ancestral home on Bridal Veil Island, Georgia, she hoped the beauty and remoteness of the place would keep him sober and close to God. But now wealthy investors are buying up land to build a grand resort on the secluded island--and they want the Cunninghams' property.
Contractor Marshall Graham can't imagine why Boyd Cunningham would ask him to look after Audrey. Marshall has no desire to be saddled with caring for the fiery young woman who seems to think the worst of him. But when someone appears to be sabotaging the construction work at the resort and Audrey's life is endangered, Marshall realizes she holds more of his heart than he thought and he'll do anything to keep her safe.
Amid a time of growth and change for Bridal Veil, can Marshall and Audrey find a foundation on which to build a love to last forever?
Rebekah Hendricks dreams of a life far beyond her family's farm in Oklahoma, and when dashing aviator Arthur Samson promises adventure in the big city, she is quick to believe he's the man she's meant to marry.
But the Spanish flu epidemic changes everything. Faced with her aunt's sickness, Arthur's indecisiveness, and four children who have no one else to care for them, Rebekah discovers she must choose between her desire to escape the type of life she's always led and the unexpected love that just might change the dream of her heart.
The Doctor's Lady by Jody Hedlund
Priscilla White knows she'll never be a wife or mother and feels God's call to the mission field in India. Dr. Eli Ernest is back from Oregon Country only long enough to raise awareness of missions to the natives before heading out West once more. But then Priscilla and Eli both receive news from the mission board: No longer will they send unmarried men and women into the field. Left scrambling for options, the two realize the other might be the answer to their needs. Priscilla and Eli agree to a partnership, a marriage in name only that will allow them to follow God's leading into the mission field. But as they journey west, this decision will be tested by the hardships of the trip and by the unexpected turnings of their hearts.
When Catharine Olsen leaves Holland for Wyoming as a mail-order bride, she brings some extra baggage with her: two sisters, her mother's set of Blue Willow china, and a tragic past. As she steps off the train, Peter Andersen is glad to see that she is everything her letters showed her to be. But he is a bit perturbed by her unexpected companions. How will he support them all? And what other secrets might Catharine be keeping from him?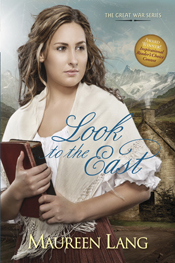 Look to the East by Maureen Lang
At the dawn of the First World War, the small village of Briecourt is isolated from the early battles while a century-old feud between the Toussaints and the de Colvilles still rages in the streets. But when the German army sweeps in to occupy the town, families on both sides of the feud are forced to work together to hide stragglers caught behind enemy lines. Juliette Toussaint may have been adopted from a faraway island, but she feels
Juliette Toussaint may have been adopted from a faraway island, but she feels the scorn of the de Colvilles as much as anyone born a Toussaint. So when she falls in love with one of the men in hiding—a wealthy and handsome Belgian entrepreneur—she knows she's flirting with danger.
Charles Lassone has been waiting in the church cellar, safe from the Germans for the moment. But if he's discovered, it will threaten the entire village—including Julitte—and could cost Charles his life.
Hoping to leave the shadows of her shady yesteryears behind, Adeline Reid is focusing on her photography career. But when her ex-boyfriend's compatriot in crime shows up in Dodge City her entire past is threatened by exposure. Can Addie keep her secrets while helping to catch a killer? Deputy Miles Carr's investigation into a shopkeeper's murder leads him to Addie's door. Will his attraction to this female photographer keep him from catching the true culprit? Or will Addie lead him off course in more ways than one?
Tall, Dark, and Determined by Kelly Eileen Hake
Welcome to Hope Falls where three enterprising young females are accepting applications for husbands-for-hire. With one woman already snagged, Lacey Lyman is one of only two remaining. No one really catches her eye until a handsome hunter arrives. Will Lacey find a way to bag her prey? Determined to investigate why Hope Falls's mine collapsed, Chase Dunstan poses as a potential husband and a hunter, giving him the perfect excuse to poke around inside and outside of town. If only he could get the chatterbox Lacey Lyman off his trail. Can he keep his cover while solving the mystery of the mine?
Rural switchboard operator Georgie Gail is proud of her independence in a man's world . . . which makes it twice as vexing when the telephone company sends a man to look over her shoulder.
Dashing Luke Palmer is more than he appears though. He's a Texas Ranger working undercover to infiltrate a notorious gang of train robbers. Repairing telephones and tangling with this tempestuous woman is the last thing he wants to do. But when his stakeout puts Georgie in peril, he realizes more than his job is on the line.
When young widow Lady Lydia Gale helps a French prisoner obtain parole, she never dreamed he would turn up in her parlor. But just as the London Season is getting under way, there he is, along with a few other questionable personages. While she should be focused on helping her headstrong younger sister prepare for her entré into London society, Lady Lydia finds herself preoccupied with the mysterious Frenchman. Is he a spy or a suitor? Can she trust him? Or is she putting her family in danger?
The Lady's Maid by Susan Page Davis
Travel along with Elise Finster and her British mistress, Lady Anne Stone, as they search for the new but missing earl of Stoneford. Determined to follow David Stone's somewhat cold trail leading to Oregon, greenhorns Elise and Anne secure livestock and supplies to join a wagon train. Will the ladies succeed in their quest or succumb to the malfeasance of the mysterious man dogging their heels? Scout Eb Bentley's initial disgust with these ill-prepared women eventually turns into admiration for one lady in particular. Can he protect her long enough to win her over, or will prairie dreams turn into a Wild West nightmare?
Bandit's Hope by Marcia Gruver
Stream on down to Mississippi, the setting of Marcia Gruver's second book in the breathtaking Backwoods Bride series. Reddick "Tiller" McRae is tired of the outlaw life, even more so when he falls for a respectable innkeeper's daughter. Will he face the gallows before he can win her hallowed heart? Maria Bell is tired of waiting for God to bring her a husband and protector. Taking matters of the law and love into her own hands, she sets a trap to catch a thief and a husband. What will she do when she finds out they are one and the same?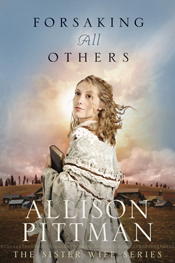 Camilla Fox is alive. The last thing she remembers is being lost in the snow after leaving her home to escape the Mormon faith she no longer calls her own. She's been taken in by the 5th Infantry Regiment of the US Army and given over to the personal care of Captain Charles Brandon. As she regains her strength, memories of her two children she had to leave behind come flooding back, threatening to break her heart. Camilla is determined to reunite with her daughters. But when news of her father's grave illness reaches her, she knows she must return to the family farm to reconcile with her father. As spring arrives, Camilla returns to Salt Lake City a changed woman, but nothing could prepare her for the changes to the city, to the Mormon church, and to the family she left behind.
A Sound Among the Trees by Susan Meissner
As a young bride, Susannah Page was rumored to be a Civil War spy for the North, a traitor to her Virginian roots. Her great-granddaughter Adelaide, the current matriarch of Holly Oak, doesn't believe that Susannah's ghost haunts the antebellum mansion, looking for a pardon but rather the house itself bears a grudge toward its tragic past.
In one of the most heartbreaking times in American history, a Southern preacher's daughter makes a tragic error that pits her against the very people she loves most.
To create something that will last is Claire Laurent's most fervent desire as an artist. It's also her greatest weakness. When her fraud of a father deals her an unexpected hand, Claire is forced to flee from New Orleans to Nashville, only a year after the War Between the States has ended. Claire's path collides with that of Sutton Monroe, and she considers him a godsend for not turning her in to the authorities. But when they meet again and he refuses to come to her aid, she realizes she's sorely misjudged the man. Trading an unwanted destiny for an unknown future, Claire finds herself in the middle of Nashville's elite society and believes her dream of creating a lasting impression in the world of art may finally be within reach.